| | | |
| --- | --- | --- |
| | Acknowledgements | |
I wish express my gratitude to all the family, friends & "look up" volunteers whose assistance with research & kind sharing of their own research data has made this site possible. I would also like to extend my thanks to Dr. Jean Barman, Bruce Watson, the Sooke Regional Museum, the Saanich Pioneers' Society Museum & Archives, St. Francis Xavier Church in Mill Bay, the Shawnigan Lake Historical Society, Fort Langley National Historic Site and "The Children of Fort Langley" site.
This site is dedicated to the memory of my maternal grandfather Albert Joseph Lafortune.

/B>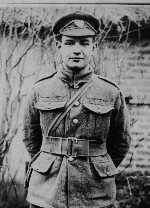 Albert Joseph LaFortune
1895-1977
The above photo was taken December-1916 near Louez les Duisans, Pas de Calais, France.
*Photo provided courtesy of family member & reproduced here with their permission.

IAm A Proud Member Of:



Phenomenal Women Of The Web
UPDATED October-20-2001
Copyright 2001 Laurel Katernick